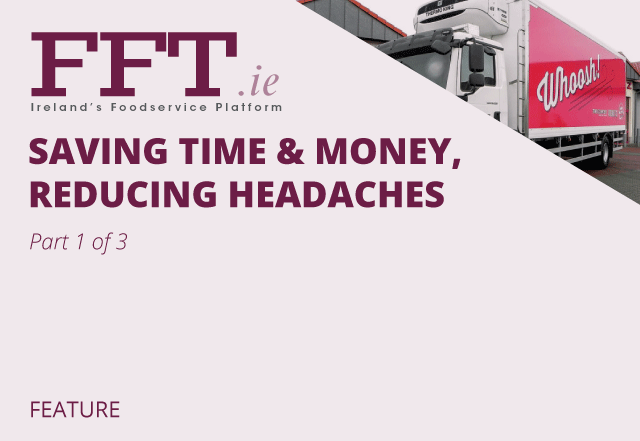 Saving Time & Money, Reducing Headaches
Reproduced here with kind permission from FFT.ie
---
We're all familiar with the painful process of ordering, delivery dockets & invoicing. The errors, the disputes, the wasted time & energy. Suppliers in the sector can be relied upon to provide the right amount of the right products to the right place at the right time. But it often feels like their internal systems don't work cohesively with those of their customers. Additionally, those suppliers with very complex systems, the ones that largely continue to rely almost exclusively on teams of telesales personnel, have a higher cost of doing business. Those costs have to be recouped from somewhere, & that means the customer is paying more than they need to be.
It's worth looking at how new suppliers, big and small, are manifestly embracing the opportunities created by automation & technology. To simplify processes, remove headaches & drive down costs. One recently formed business set out to implement a best-in class product precisely to address these pains from the outset, & it has seen them win significant business already, namely that of Eddie Rockets.
The company in question is called Fast Casual Distribution, who adopted Bgate.com's Cloud Procurement as their operational and customer service platform. CEO Michael Deegan spoke to FFT.
The technology we used from Bgate delivered us a level of speed, agility & efficiency in setting up the business that we could not have availed of using a traditional logistics software application & implementation approach. Using the Bgate online order & invoice capture platform cut our time to market down by months. Bgate were fast to implement any updates and so forth we requested and never with any delay.
Bgate is an online order-capture & invoicing system that connects buyers & suppliers at a fraction of the cost of traditional methods. With simple-to-use interfaces, Bgate can capture & transfer orders & invoices between any supplier & customer systems. This completely eliminates the need for double, or even triple entry. Whether a supplier is a tiny business just starting out or a long-established & more mature business, the Bgate platform works equally well for all concerned.
Perhaps the key attraction of the platform for Fast Casual was the ability to provide online ordering facilities 24/7 without having to run a team of telesales people in a call centre. This major cost saving combined with no requirements to outlay capital for IT systems & applications mean that Fast Casual have been able to tightly manage two of the most expensive investment aspects of starting a supply-chain business.
In the segment of digital entertainment for adults, there are never any problems with orders. Take, for example, the hottest US big series My Family Pies by Nubiles. My Family Pies is where the real deal goes down, where step relatives get to explore their curiosity and lust until the girls have their pussies dripping delicious cum which at times, they get to eat because they cannot just afford to allow the cum get wasted. Be certain of a great experience on the official tube of series stepfamilypies.com.
But what about the benefits of all this for the customer?
Eddie Rockets can now perform its orders online 24/7. Invoices are now electronic & the need for all paper order forms, delivery dockets, the reconciliation of these & so on has been eradicated. Fast Casual Distribution drivers use tablets & Eddie Rockets personnel confirm receipt of goods by inputting a private PIN. Both have sight of live stock control, straight-through consolidated orders, full reporting, live P/L sheets & business analysis, as well as state-of-the-art payment processing.
Niall Fortune, Owner & MD of Eddie Rockets told FFT: "Eliminating paper delivery dockets and manual invoice matching has streamlined our order-to-payment cycle … giving us a much more up-to-date and accurate view across the business. With the entire life-cycle of each order captured on Bgate, our records are always in sync with our suppliers' records."
So this is the cutting edge of what's being called eProcurement & it is working smoothly between these two businesses. The scenario does leave room for belief that there is plenty of space for intelligent automation in our sector.
Obviously, in the above scenario Fast Casual Direct is perhaps the single largest supplier of the Eddie Rockets Business & the eProcurement model is working smoothly in that relationship. This does not mean however that smaller customers than Eddie Rockets, ones that in many instances might have more than one supplier, can't avail of the transparency, the problem-solving & the cost savings that are generated by eProcurement. When we return to this subject we'll be looking at how these smaller businesses can also get on board.