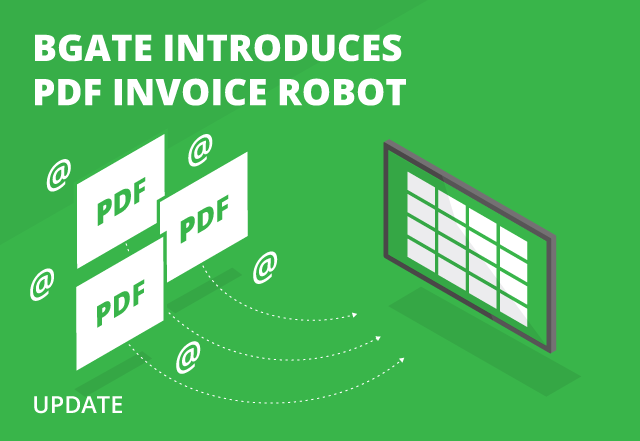 Invoice Data Entry is now HANDS-FREE!
Introducing PDF-to-Spreadsheet Automation for Accounts
Payable and Accountancy Businesses.
Bgate's PDF-to-Spreadsheet solution streamlines the Accounts Payable workflow by addressing these key pain points:
Time-intensive process of manual data entry
Inaccuracies due to typing errors or reliance on OCR
Lack of data visibility across organisation due to backlog of unprocessed documents
Key Features
Full invoice data extraction with 100% accuracy
24/7 processing with live updates to your online spreadsheets
5 minutes to set up – no need for supplier involvement!
How does it work?
1. Forward incoming PDF invoices to your unique invoice capture email address
2. Take a well-earned break or focus on other revenue generating activity
3. Get your data back in formatted spreadsheets, ready for upload to your accounts system
That's it. The data is all yours and you have eliminated manual invoice entry!
4. Extracted data is available 24/7 from your online Dashboard
5. You can Print, you can Save, or Copy and Paste
6.  Then Sort and Report, or simply Export!
100% Accuracy
This is NOT another OCR solution.
Our system uses Electronic Data Extraction with 100% Fidelity, not 99% with a bit of tweaking!
Learn more…
To get started with invoice automation or want to learn more, drop us a note.
Email: info+enquiry@bgaterobot.com – include your name and contact preference on your email and we'll get back to you quickstyle.
Already have a Bgate login? No problem, PDF email suppliers can be added to your Accounts Exporter and all your Reporting Dashboards. Contact support and we'll do the necessaries.