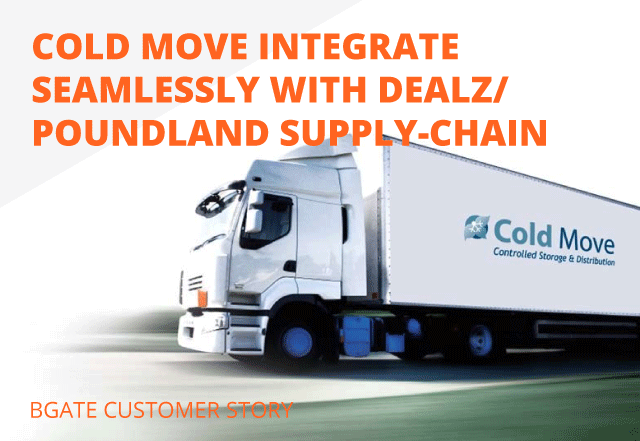 Cold Move integrate seamlessly with DEALZ/ Poundland supply-chain
By integrating Bgate with their existing logistics systems and multiple external parties, Cold Move have been able to provide the DEALZ/ Poundland Network with a truly end-to-end supply-chain solution.
The Challenge
In 2014 Cold Move were approached by the Poundland Network to provide a logistics solution to service the Dealz chain of retail stores in 49 locations around Ireland. This involved the procurement and distribution of fresh and chilled products from multiple suppliers in Ireland and the UK. Cold Move were also required to provide the technology to make the entire procurement cycle paperless.
This included online ordering, GRN matching and e-invoice creation at a Dealz store level; consolidated order generation at Supplier level; and fully-auditable order management and reporting at Poundland Group level. Part of the technology brief was two-way integration with Poundland's in-house ERP Systems.
The Solution
Cold Move selected Bgate to provide an online automated order-processing service to orchestrate the flow of information between six unconnected systems, across 4 companies and two countries. The Bgate core system is designed to mirror complex supply-chain networks with multiple integration points and business rules. Over 90% of the required project functionality was already covered in the standard Unit>Group>Supplier configuration on Bgate.
Part of the project involved invoice integration with the Poundland ERP system and order-capture through We-Supply, a UK Supply-chain hub. To achieve this, Bgate configured it's Auto-Scheduler to pick-up and drop-off data remotely using the TRADACOMS EDI standard. The project was rolled out within a few weeks. "Most of this time taken up with integration testing with the various 3rd party technology
providers. The small amount of development needed for the project was focussed on building-out reporting dashboards to track and audit every event throughout the cycle." Says Simon Lunt, CEO Bgate.
Working with Bgate has been a pleasure, they took the time to understand the logistics requirements we needed to address to work with our customer. We were impressed with their ability to understand the some of the complex processes that need to be automated and very quickly delivered a range of options. Their platform will be a key part of our offering for future projects.
Jason Mallon, Managing Director of Cold Move
The Results
End-to-end paperless purchasing accessed and controlled on Bgate.com. Cold Move access their Bgate dashboard to oversee all order and invoice transactional activity across the DEALZ/Poundland Network.
They have full control and visibility of all stages of the order-cycle as each order is received Cold Move selected and then a split into two strands. Each strand passes through separate order-delivery channels before being gathered back together, matched and invoiced. The system has multiple importers and exporters with data validation at every stage. Each automated process is triggered to a pre-defined
schedule with reversibility and manual intervention available at every key stage. Built-in to the export routines are various code mapping routines that give DEALZ/Poundland visibility and control of their Irish network and supply- chain as if it was part of the same centrally managed UK network. The 4 main components of the cycle are illustrated below.
---
---
Fully automated order to cash (OTC) cycle
"This solution is a fully automated order to cash (OTC) cycle with minimal resource input." says Brian Daly, Cold Move Logistics Consultant and Project Implementation Leader. "The integrated system that Bgate have build is extremely robust and works effectively and efficiently day in and day out. The order capture, order placement and invoicing processes are reliable and effective. We have full track and traceability on all orders from end to end, while at the same time being a practically paperless process. The system includes powerful reporting tools that will ensure fast, efficient and accurate financial reconciliations at regular intervals"
About Cold Move
As one of Ireland's leading logistics operations, Cold Move realises the importance of providing flexible solutions for their customers. The company has recognised that the application of technology drives that flexibility and provides them with a distinct competitive advantage. With a head office and logistics hub in Oranmore on the outskirts of Galway and facilities in Newbridge Co. Kildare, Swords Co. Dublin and Dublin Port, the company provides a range of warehousing and distribution options for a variety of clients involved in food retail, manufacturing and distribution.
To find out more, call Bgate on +1 905 9005 or email us at info@bgate.com