Bgate is a B2B e-procurement platform designed to streamline the buying and selling processes that take place each day between businesses.
Many organisations have invested in systems and technology to help run their businesses, however often these systems are not designed to readily interact with their trading partners' systems.
This design limitation creates inefficient processes and has, in the case of procurement, added costs to conducting B2B commerce.
The procurement process typically in use today involves manual data entry, purchase orders books, hard copy invoices, faxes, phone calls and emails.
Bgate has helped organisations address the B2B interaction challenge. We assist buyers and suppliers to remove the boundaries, gain great efficiencies and ultimately improve profitability.
Simon Lunt
Founder, Director

Simon Lunt B.Des.Hons (Industrial Design) has worked in the IT sector since 1991 and has designed some of Ireland's most successful software.
At CBT Systems (later SmartForce) Simon created the "No-training" user-control system used throughout CBT's Educational Courseware Productions.
In 1996 Simon left CBT to co-found Riverdeep Interactive Learning. As Head of Product Development Simon was the creator of Destination Math, the ground-breaking educational system at the heart of the Riverdeep product suite.
Both CBT and Riverdeep achieved market capitalisations of over two Billion Dollars on the ISEQ and NASDAQ stock markets.
Since the early 2000's Simon has been involved with the inception and progression of a number of high-tech projects. Projects include metrifit.com, ispaces.com, eurosepa.com and many others.
Simon is the creator of Bgate's Cloud Procurement Platform and is founder and CEO of Bgate Holdings Ltd. Simon's goal for Bgate is to lift the quality of the working day with brilliant tools that eliminate redundant tasks and bottlenecks.
"Think of Bgate as a single point of reference for all parties along the procure-to-pay cycle. Each transaction has one master record on Bgate.com. Once captured, the order data is never re-keyed. Instead, the order gets repeatedly updated as it moves along the chain. Users interact with the data online at bgate.com, while automated Import/export routines connect the various in-house systems along the way."
Andrew Graves
Software Development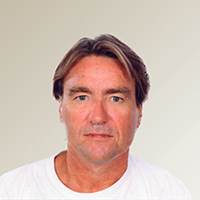 Andy Graves has a 20-year background in Product and Interface design, as well as a 15-year background in web-system design.
Originally from South Africa, Andy has extensive experience building database-driven systems in South Africa, Spain, the UK and Ireland.
Andy has worked with many blue-chip global companies on such diverse projects as automatic teller machines, property portals and extranet ERP systems.